Mobile Apps to Beautiful Custom Books!
Capture, Create, and Connect on the Go.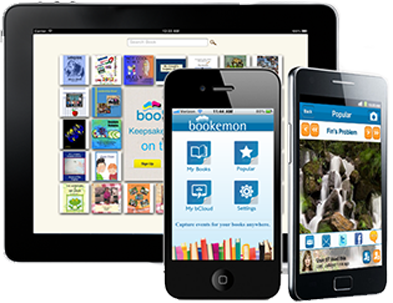 Capture Event On-the Go
Make Custom Printed Books on iPad
Instant Blogs, PDFs into Books
Access all your Books Anywhere.

With Mobile Apps You Can
Capture

Favorite moments/events for your

books anytime, anywhere

Create

All of your personal books by your

side while On the Go.

Connect

With friends, readers and your favorite

Bookemon Authors from your phone.
bookPress
- Best Book Creator on iPad to make your own printable book from photos, Word or PDF documents and blogs
Create Your Own Books On your iPad, in Print or in e-Book Format!

bookPress, the best book making app on iPad, allows anyone to create a storybook, cookbook, photo book, children's book, yearbook, or textbook in minutes. With bookPress, you can share your book or pages with your family and friends using email, Twitter, Facebook, or just save it in iBook. You can also turn it into a lasting keepsake book in print. The final copy looks just like a gorgeous book from bookstore!


Features:
* Create your own books with clipart, templates or backgrounds provided by Bookemon.
* Create your book pages from a blog or an existing web site.
* Create a book from existing Word or PDF documents stored on the device, email, or a Dropbox account.
* Use images from Dropbox or flickr.
* Access your work from any device via a free build-in cloud system.
* Read your book in iBooks or other Apps.
* Easily edit your book with images, text, and shapes.
* Get the flexibility to change your page backgrounds using your own design or Bookemons.
* Add a new page from blank, previously designed page, or Bookemon bCloud.
* Share with family and friends via email, Facebook, Tumblr, or Twitter with one tap.
* Take advantage of privacy settings that give you control over access to your books.
* Get the option to publish your book in B&W, or full color hardcover/softcover bookstore quality.
* Access to a tool to approve your work before publish.
* Educator friendly! Build edCenter for educators only to have a trusted and secure environment to work as a class.
* Theres no obligation to buy, and you can order only one copy or many.
* Compatible with iOS5.0 and higher.
* Full retina support.
Bookemon - Create Your Own Beautiful Custom Books!
http://www.bookemon.com
Review comments from users:
"Great App, seriously one of the best apps ever"
"I have no connection to builders of this app or the company, but if you really want to write a quality book, then stop looking and use this app. Whether you want to write a children's book, or the great American novel, this is the best and easiest "creat-a-book" app in the world, and I've tried them all. It's so easy to use, yet the quality doesn't suffer at all. I always wanted to write a book, this app has allowed one of my dreams to come true. Thank You. A+"
"I'm writing a booklet for all of my friends who are getting married this year, and this app is perfect for my little project! I love how easy it is to use, and how intuitive the app is to all the layers I am putting on the pages! I can't wait to see the finished product in a hard copy!"
"I love this app. I have been writing a 400 page book and was glad to see that this is helpful, efficient, and easy to use. I recommend this for all. You can write picture, story, scrapbook and so much more. "
"Easy to create my travel book while I'm on the road."
instaPress
- Create your own printable Book from Photos, Blogs, PDFs on your phone easy and fast
Make a Print Book from your Blogs, PDFs and Word documents on iPhone
instaPress, instant book creator, lets everyone create their own books from Word or PDF documents, Blogs or Web pages! You can make a brochure, textbook, manual, or catalog with ease on your iPhone. Books created can be ordered in Pro-Quality hardcover or soft cover formats or shared as eBooks with business partners. The best part? It's totally free of charge.
instaPress is the easiest and fastest way for anyone to turn your existing content into a high-quality print book from an iPhone or iPad in minutes. You can do it simply with a few taps.
Features:
* Turn your Word or PDF files on iTunes or in Dropbox into Pro-Quality books in minutes
* Built-in Blogs and/or Web Pages to Book
* Order your books in Pro-Quality hardcover or soft cover print
* Share your books as eBooks with others via email, Facebook and Twitter
* Read your books everywhere, on devices at hand
* Read your books using iBook or other reading apps
* Safekeeping feature with Bookemon bCloud preserves your content in the event data loss ever occurs
* Recognize QR code
Bookemon - Make Books Your Way!
http://www.bookemon.com
Bookemon, Inc. has today debuted the world's most complete suite of book and eBook creation tools ever to be assembled in one place. Combining web-based tools and premium features with iPad and iPhone apps, Bookemon provides K12 educators, families and businesses with the power to create anything, from picture books to business books, eBooks and fiction.
Bookemon Reader
- Personal Books On the Go
Bookemon Reader, a free app that synchronizes your Bookemon library between your phone, tablet and bookemon.com. It lets you capture and upload photos/events to bCloud. You can read not only your own books but also any pubic books in the library on-the-go. You can interact with other readers at Bookemon as well. It's easy and fun!
Bookemon Reader Features:
* Totally Free App
* Showcase/Read books you've created online wherever you are
* Read popular books in the Bookemon library
* Upload photos from camera to your bCloud for future book projects
* Capture special event/occasion photos for your books easily, instantly
* All captured pictures tagged with location and time stamp
* Share a story with your friends on the go via email and social network anywhere
* Scan a QR code
* Be able to read bookemon books via bookemon QR code
* Works with iOS4.0 & above
Bookemon - Make Books Your Way!
http://www.bookemon.com
Bookemon.com is a free, friendly and secured site for parents, teachers, students and creative people to design and collaborate on book projects ranging from children books, story books, yearbooks, poetry, family cookbooks and a wide variety of other themes. Join a fast growing community of creative storytellers, families, K-12 educators, students and educational organizations.
Bookemon.com Features:
* Free to Create & Publish eBooks and Bookstore Quality Books in print
* Bookstore Quality Books, Buy One or Many; no obligation to buy
* No Software, Easy Book Builder, 100% Online
* Educator's Discounts for qualified educators to purchase bookstore quality books.
* edCenter, a private and secured environment specially designed for educators to collaborate on group projects with students and cohorts online.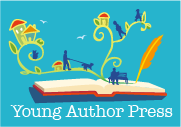 Inspiring Story
Testimonials