Referral Program
The Bookemon Referral Program
Details on how you can earn money by referring other people to make their own books through Bookemon's user-friendly platform. We have a unique referral program that allows you to earn real money and even use Bookemon for nothing! All you need to do is to refer others. When they buy within a year, you'll share in the profits. It's easy. Here's how.
Get a referral code
When you sign up for your Bookemon account, we'll give you a referral code. To find your code, follow these simple directions.
1. Access your Bookemon account
Select "My Referrals" on the left-hand side on myBookemon. Click on the link.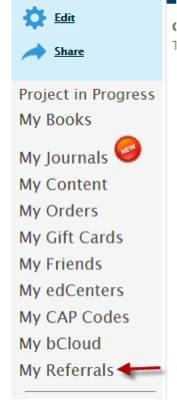 2. Find your referral code
On the "My Referrals" page, you can find your referral code at the top of the page.

3. Refer your friends
Pass your referral code on to others—friends, family—even colleagues at work. Make sure that you always use the link right after "Your Link:" every time you refer another person.
4. Earn a reward for each referral
For every person that joins using your referral code, you'll share 5% of the book revenue every time they purchase something within one year from their registration. The more people you refer, the better your chance for earning income without doing a thing. You can redeem your earnings once your friends' orders are completed.
5. Friends who join using your referral link get a $5 coupon!
Not only does it benefit you when you refer friends, but it benefits your friends as well. If they've been thinking about publishing their own book—do them a favor and send them the link so they can join in the savings!
How can I maximize my referrals?
We've provided you with several different ways to share your referral code. On your "My Referrals" page, your referral link has your referral code embedded in it.
Pass it on: If you pass this link on to a friend or post it on your website, anyone who clicks on the link and subsequently joins Bookemon will earn a $5 coupon on their first order—and you'll share in 5% of the book revenue from their purchases—up to an entire year after they've joined.
Share on social media: You can also share your referral code with your network by using the social media sharing buttons on your "My Referrals" page.
Post on your website: We've also supplied HTML code for a "badge". Copy and paste this onto your website, and anyone who selects the badge and then joins Bookemon will become your referrals. During the next year, all their purchases will earn money for you. The more people that register and buy, the more you will share and earn. Be sure to include a notice that you have posted an affiliate link, so that you will be compliant with the current law. (click here to see reference)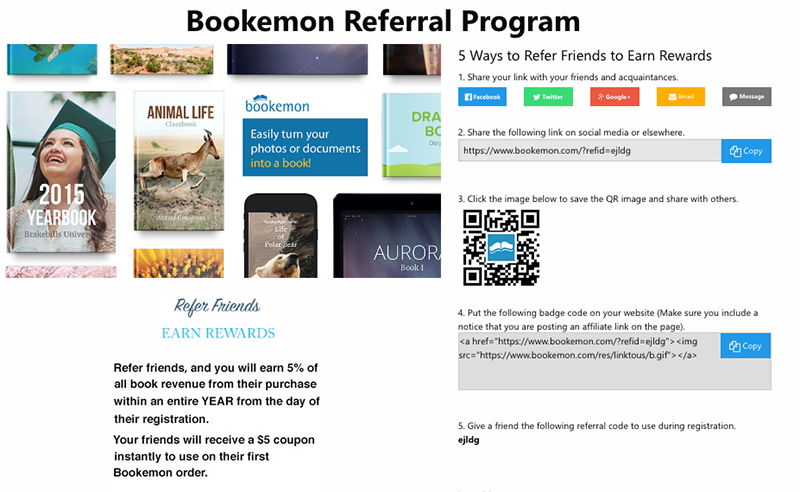 How do you redeem your referral reward?
To be able to receive your referral rewards, you need to enter your PayPal account on the "My Referrals" page. You can always go to "My Referrals" to check your rewards status. Once you see the amount you have earned, click "redeem" next to the amount earned. If you have registered your PayPal account, we will deposit the money into your PayPal account early in the next month after your redemption request.
▲